In 2014 K.C. Steakhouse celebrated its 75th anniversary
of serving their fine dinning experience.
Located at 2515 "F" Street in Bakersfield, CA
Phone: (661) 322-9910
The interior decor is kind of Mid-Century Modern meets the old West, with a free-form dropped ceiling lit in a Vegas night club vibe from the 1950's. A giant copper fireplace at one end of the venue dominates the room and patrons clamor to be seated next to it.  There are a few red leatherette booths that you would almost swear you saw Frank Sinatra & the boys seated having dinner with a few martinis.   And on the ceiling above to top it off, a few wagon-wheel chandeliers finishes this eclectic dinning decor.
The bar adjacent to the dinning area continues the free-form curve and the Wild West Mid Century Vegas theme where some of the best "wickedly strong" libations are served by the frequently uniformed bar tender and waitresses staff. Behind this bar and tucked into the corner is a tiny stage that host live performances most every evening from 6:00 pm to 11:30 pm.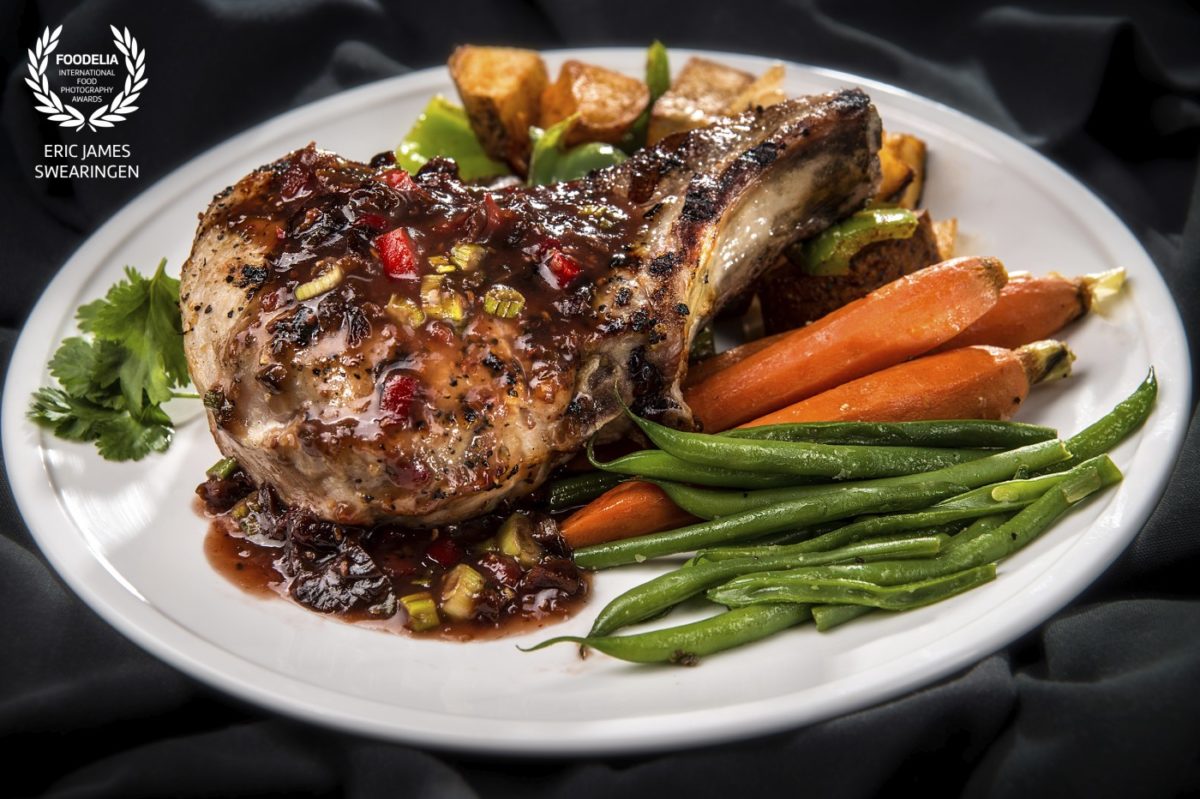 The Stuffed Pork Chop
A premium hand cut, bone in loin chop stuffed with apple and bread crumbs, topped with cranberry relish served with seasonal vegetable sides and "cowboy" potatoes.
NOTE: The image above won Foodelia Collection 26 International Food Photography competition in 2017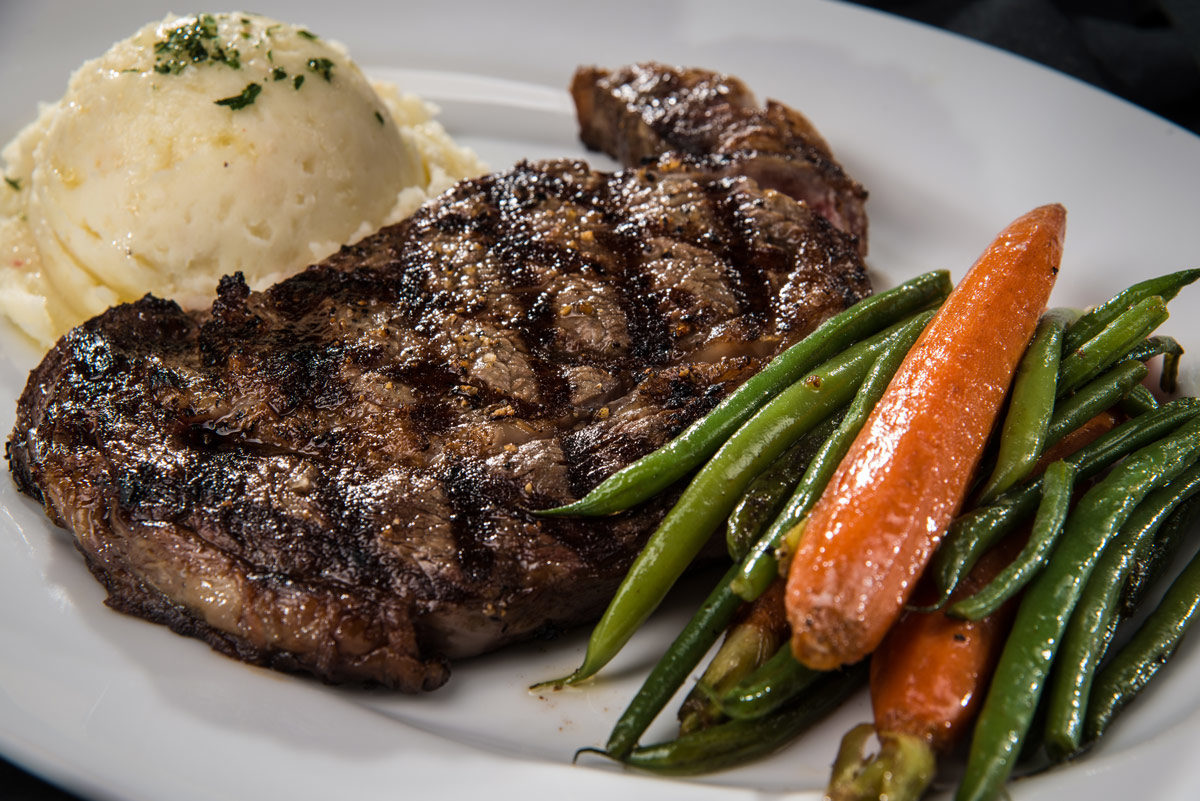 New York Strip Steak
All dinners include choice of soup or green salad, beans, salsa, choice of baked potato, garlic mashed potatoes,
rice pilaf or cowboy potatoes, fresh sourdough bread and butter.
Add Peppercorn Sauce, Sauteed Mushrooms or a Caesar Salad for a few bucks more…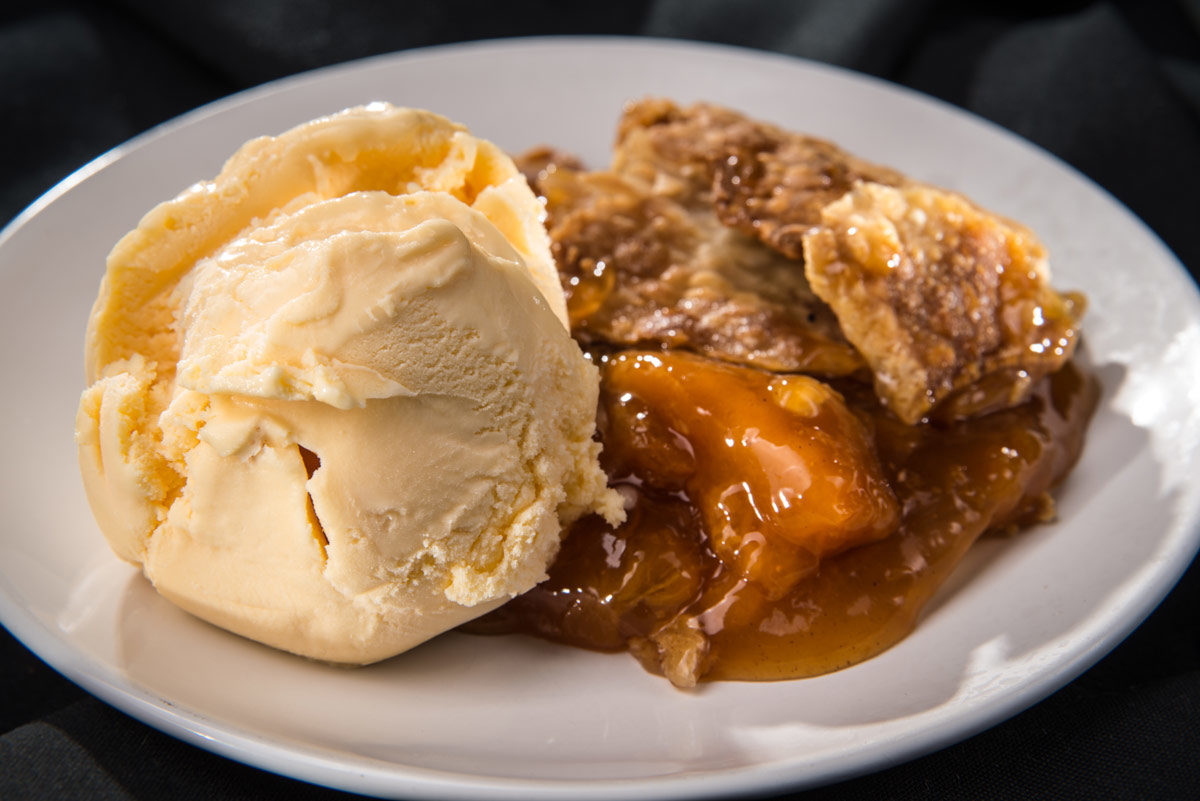 Classic Desserts
Here we have the basic yet delectable Peach Cobbler Ala Mode with French Vanilla Ice cream.
History
On October 13, 1939,  "Doc" Kennedy (a retired pharmacist) opened the K.C. Steakhouse at 630 Union Avenue across the street from the world famous "Bakersfield Inn".  During the early days, the K.C. Steakhouse did not serve liquor, but just across the street was a bar owned by Martin Jaussaud and Clyde Barbeau, called the "Bomb Shelter".  Both of these establishments became a quite popular with the cadet airmen training at Minter Field in Shafter, California during World War II.
After the war, the K.C. Steakhouse became a favorite dining spot for local residents and tourists alike.  It has always been a gathering spot for city, county and government officials and heads of departments.
The K.C. Steakhouse remained the same until 1967 when it was moved to its present location by the then operator, Charles Gibson.  It has been in this location ever since that date.  In October of 1984, the business was purchased by Hughette Hardy known as "Frenchie", until 1991 when it was purchased by Aubrey Carter.  In June of 1997, then K.C. Steakhouse was purchased by Charlotte Carter who continues the great K.C. Steakhouse tradition at 2515 "F" Street.
In 2003, Charlotte Carter married Terry Campbell and they operate K.C.'s as co-owners.  It remains the favorite dining spot for locals and for the hundreds of "out-of-towners" who always revisit when they are again in town.
The present building housing the K.C. Steakhouse was built circa 1949; and was opened as "Greg's Hi Life Club" circa 1952.  The room remains virtually the same as it was then.  The wood paneling and mirrors have replaced the Victorian Age red papered walls, and a partition over the back bar has been removed.  The kitchen has also been recently renovated.
©2018 Eric James Swearingen
#ArtofEricJames