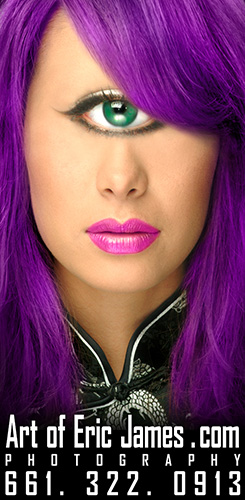 Photographer in Bakersfield, Ca.
See also:
http://artofericjames.tumblr.com/
http://www.facebook.com/ArtofEricJames
Eric James Swearingen is a Freelance Commercial Photographer, Cinematographer and Visual Artist. Specializing in fashion, food, aviation, product illustration, travel, executive portraiture, fine art photography and high definition digital cinema video productions including commercial television for broadcast, corporate presentation videos & emergency first responders safety productions.
40+ years of experience, with a vast repertoire of creative techniques…
Started photography at a very young age of 8 years old by developing film in a family friend's dark room. By his Sophomore year at East Bakersfield High School he was tutoring upper classmates in the photography course. Studied Cinematography at Bakersfield College while taking the position of Assistant Professor of Photographer in the Art Department at Bakersfield College. Became Don Mason's first assistant in 1984, right after he graduated with honors from Brooks Institute of photography. Traveled the world as a lead Hughes/JVC video projectionist until 2000 working with industry giants like George Lucas (Lucas Films LTD.), Bill Gates (Microsoft), Andy S. Grove (Intel Corp.) and NASA plus many more. Became the Kern County Fire Dept. primary Video Production person in 2001. Now, owner of ArtofEricJames.com a fully independent studio exhibiting his vast degree of experiences for his current and future clients.












Current Visitors

Portfolio







Recent Posts

Archives

Meta

Social Media