Studio based in Bakersfield, Ca.
Eric James Swearingen is a Freelance Commercial Photographic Artist & Cinematographer. Specializing in Food, Fashion, Aerospace & Product Illustration.
50+ years of experience, with a vast repertoire of creative techniques…
Started photography at a very young age of just 8 years old developing film in a next door neighbor's dark room.
"Photography was genuine magic, when I first saw it back then."

By his Sophomore year at East Bakersfield High School he was tutoring upper classmates in photography courses. Studied Cinematography at Bakersfield College while taking the position of Assistant Professor of Photography in the Art Department. Became commercial photographer Don Mason's first assistant in 1983, right after he graduated with honors from Brooks Institute of photography. Traveled the world as a lead Hughes/JVC video projectionist until 2000 working with industry giants like George Lucas (Lucas Films LTD.), Bill Gates (Microsoft), Andy S. Grove (Intel Corp.) and NASA plus many more.
Became the Kern County Fire Dept. primary Video Production specialist in 2001.
From 2008 to present; owner of ArtofEricJames.com a fully independent studio exhibiting his vast degree of experiences for his current and future clients.
"Photography is still genuine magic to me and I would love to create a special vision just for you."
See also:
https://www.instagram.com/artofericjames
http://artofericjames.tumblr.com/ 
https://www.facebook.com/eric.j.swearingen
http://www.facebook.com/ArtofEricJames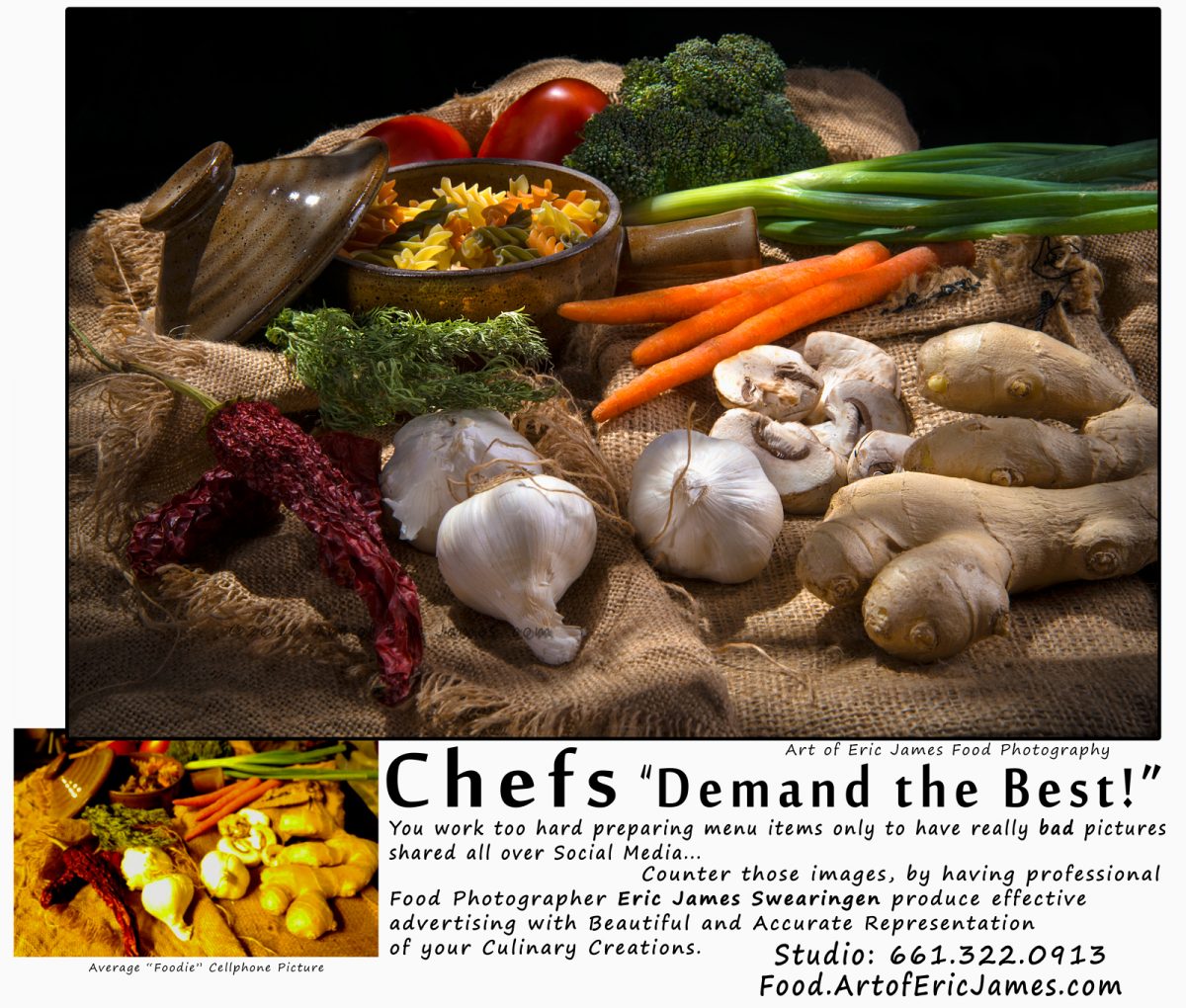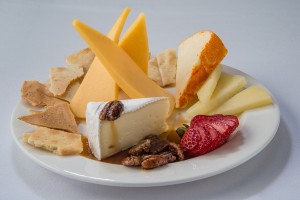 Here at the Art of Eric James Studios we take great pride in crafting the highest quality images to faithfully reproduce your culinary creations to a hungry audience.
Food photography and video production is a specialization of commercial photography, aimed at producing attractive images and video of food for use in advertisements, packaging, restaurants publications like menus or cookbooks and is especially useful in social media presentations where it is extremely important to engage your patrons with special offers and current promotions.  Good quality food photography can really help counter the foodies that take bad cell phone snap shots and post them to blogs and online review sites.
Professional food photography and video is often a collaborative effort, usually involving the client, an art director, the photographer, a food stylist, a prop/set stylist and assistants, all working in concert to depict the chef's vision.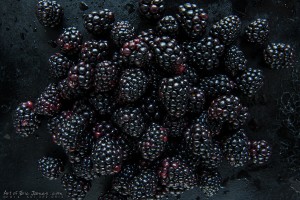 Much thought is placed on presentation and mood of the finished image to convey the correct ambiance of each unique restaurants theme and menu. This is usually accomplished by pre-production meetings where ideas are discussed to plan out the details and objectives of the photo and/or video shoot. This insures that during production all required elements needed to produce best possible images will have been acquired as part of the logistical process leading up to day of shoot and that all participating member of the production staff are fully prepared to create the quintessential vision.
Depending on the level of complexity required to achieve the shot, there may be a lot of production equipment arriving day of shoot consisting of numerous studio strobe lights with large soft boxes on support stands with electrical distributions cables along cameras and tripods, monitors, reflector cards, color calibration charts and a food styling kit (just for example). This may take a little space to set up and is best situated away from high traffic areas in the venue.
It is in fact this support equipment that makes the shot! I have to laugh when the first thing someone asks is "Do you have a nice camera?"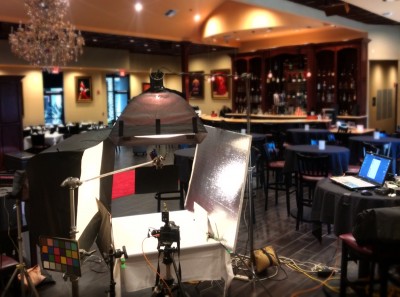 Photography is really more about lighting then anything else. In order to visually describe the shape, texture, color and details of any object, you must be able to define it with lighting. The final presentation of all photographs whether it be in the form of digital on a kiosk, smart phone, tablet, computer or in print in a magazine, cook book, billboard, menu or packaging, all of these forms of presentation are in fact 2 dimensional. It is the photographer's duty to convey to the audience that what they are viewing is a 3 dimensional object.
I achieve this through the effective use of lighting and is what sets the Art of Eric James Studios apart from the other photographers. (or as I like to call them "Faux-tographers"). Even if they have a really nice camera…

For more information call the Studio: 661. 322. 0913
Current Visitors

Portfolio







Recent Posts

Archives

Meta

Social Media