Spices can be interesting subject matter all on their own.
I used this opportunity to utilizes some new (OLD) props in this shot. The rustic background wood was acquired by Todd Schultz, a fellow photographer and pilot friend of mine from a 150 year old abandoned farm house in North Dakota and the serving tray was found out in the backyard shed with its greenish hue weathered patina, I thought it would work quite well in this image as juxtaposed by the red flaking paint barely remaining on the background broads, creating a kind of a "Grungy" Christmas theme. I believe the tray may have belonged to my Grand mother (miss you Nana).
The spices used are Star Anise, Cinnamon Sticks, Cloves & Pepper Corns. They would be great for Mulled wine during the Holiday Season and smelled incredible in the studio during the shoot.  The set was illuminated with a couple of Paul C. Buff White Lightning model 600s Studio strobe lights.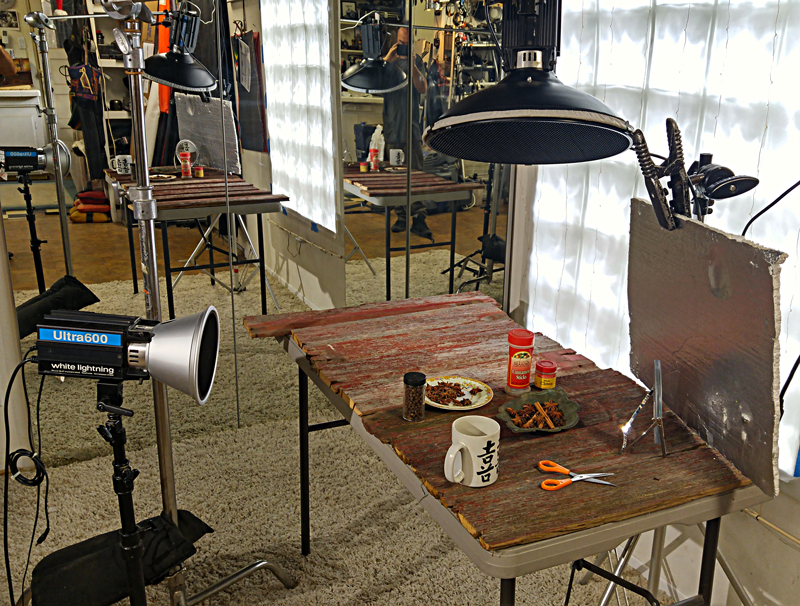 One low and from the side with a 10º grid point source light to heighten the texture and the other from above with a 24″ reflector softened by using diffusion and channeled by a 30º grid. And of course a few reflector cards bouncing a bit of light were used to fill in some of the shadows. BTW, the set up shot was taken with my new LG G4 Cell Phone camera and I have to say I am most impressed by it so far. Imagine that, a fully manual settings capable cell phone camera with built-in HDR shooting in DNG format.
Very nice!
©2015 Eric James Swearingen
#ArtofEricJames